Random Thoughts on Refugios (Albergues, Auberges), etc.:
On Refugios - a good experience, but unnerving at first. In 2001 at Roncesvalles it was chaotic for us. Some tolerant and helpful staff eventually found us a spot. However, it is all better now, a different building and assigned beds. Note: as soon as you arrive in Roncesvalles, make a dinner reservation in one of the two restaurants there. They have limited capacity and fill up.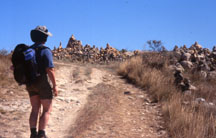 In refugios with multiple rooms, sometimes they keep a few rooms locked, and open them late, for latecomers. If all beds and mattresses are taken, many refugios will let you sleep on the floor. A backpack pad is useful for that. On our trip, which was Sept - Oct 2001 (yes, during 9-11, but that's another story), we would usually get in around four pm, and never had to sleep on the floor. In several cases, the refugio was full and there was an overflow facility available.
The refugios are unisex, and in some cases you will find yourself in a different room than a traveling companion. Many people snore - earplugs help. Also, many people like to start very early so they get to the next refugio early. Expect to hear a lot of noise from people getting up starting around 4:30. (If you do get up this early, you will miss seeing the beauty of much of the trail, and stand a good chance of missing a yellow marker and getting lost). The trail is well marked in the country, but you need to pay attention. Marks consists of splashes of yellow paint on rocks, building corners, etc. There are widely spaced official markers.

There was hot water in all but one refugio, and all bathrooms had toilet paper. One small refugio had no bathroom - just a field (we did carry toilet paper). There are public fountains in almost all of even the small towns, and the water is perfectly safe to drink. Spain is a first world nation. Your CFSJ little yellow guidebook will tell where to find the fountains.
Where to Start:
Even if you don't have enough time to walk the entire Spanish path, I recommend starting at St. Jean Pied de Port or Roncesvalles, and walking to the farthest large town that fits your schedule (Pamplona, Logrono, Burgos, Leon, Astorga). The first part is too beautiful to bypass. Come back another time to continue. If the weather is likely to be bad, start from Roncesvalles. Otherwise, take the route Napoleon over the Pyrenees from St. Jean, and book a reservation at the Orisson gite, 06-81-49-79-56, about 6 miles out of St. Jean, and half of the total vertical gain in elevation. The next day will be an easy walk to Roncesvalles. You should call a couple of days in advance to be sure of a place at Orisson www.refuge-orisson.com . You can email Orisson at refuge dot orisson at wanadoo dot fr. Note: 5 April 2007, a pilgrim died from hypothermia on the route from St. Jean to Roncesvalles. He was traveling with two others, but in the intense fog they became separated, and he went the wrong way - was found lying down in waist deep snow, alive, but died as he reached the hospital in Pamplona. Rescue was hampered by fog and snow. Every few years pilgrims die on this route due to cold and exposure, some in March or April.
Recommended Detour
Shortly before Obanos there is a detour to Eunate, a few kilometers off the Camino. We missed this the first time, and regretted it for many years, until we were finally able to visit it coming down on the Somport route. Very worthwhile.
Pilgrim Passport or Credential:
You need this document to use the refugios. You can get the church issued document in Roncesvalles, the pilgrim office in St. Jean, or the cathedral office in the large cities. You do not have to be Catholic. You will have to designate the purpose of your pilgrimage as religious, spiritual or cultural. If you indicate cultural, you will get a different completion document in Santiago. The guidebooks have detailed info on where to obtain a credential. Each night get it stamped where you stay. At the moment various organizations issue credentials, but starting in 2009 you will have to use the official church issued credential for admission to church sponsored refugios and to obtain the compestela. In Santiago, show it to the pilgrim office by the cathedral and if you have satisfied the requirements for the pilgrimage, they will issue you the Latin certificate of completion or compestela. The minimum distance to qualify is walking the last 100 km to Santiago. If you start your pilgrimage near the minimum distance, you need to get two stamps per day to qualify.

Non church issued credentials can be obtained from various pilgrim societies such as American Pilgrims. Go to www.americanpilgrims.com - scroll down the home page for the link, and request 6 weeks in advance.
Miles/km per day:
We averaged about 12.5 miles per day (20.8km) just counting our walking days from Roncesvalles to Santiago. Had a layover day in Burgos and Leon. We were among the slower pilgrims. Others were striving for something like 30km per day. There are refugios or other places to stay every 15 to 20 kilometers, so you can go at a slower pace, and I recommend it. There is much to enjoy if you aren't focused on getting to the next refugio. If we do it again, we would have a layover day in each cathedral city. The big problem with that is the people you have been seeing continue on.
My Blog entry on planning for long distance hiking
http://timecheck00.blogspot.com/2008/10/long-distance-walk-planning.html
Our spreadsheet of Camino Francés route with towns, distances, elevations:
Don't use as your only guide, as I may have typos, varied the route a little, etc. When you click on this, go to the bottom and click on edit to get a google spreadsheet view you can save as an xls file. docs.google.com/spreadsheets/d/1a4-6W2Kk4kgo-MViIOVY6Yk9uf6bWMElGZcQci1wUbs/edit?usp=sharing
Elevation Profile of entire Camino, distances, places to stay:
http://www.godesalco.com/iphp/perfil.php This link is so useful I listed it separately. You can select any two points between Roncesvalles and Santiago and it will generate a profile that you can print. In addition the initial display shows cumulative distances so you can calculate distances between any two points, and the next display shows distances between each place with accommodations. This information can be downloaded as a spreadsheet. Once you have the spreadsheet, you can add columns converting kilometers to miles.
When to go:
The normal "season" is from April though September. People go throughout the year, but you can expect snow and harsh weather during the winter months. June, July, Aug are the busiest months. Our choices are April-May or Sept-Oct. For winter pilgrimage information check Amawalker's blog entry on winter pilgrimage. On Dec 14, 2008 it was snowing in Leon:
http://www.youtube.com/watch?v=vqWXgkxI-Ms
For a blog on a winter pilgrimage starting from Aix-la-Chapelle where Germany, Belgium and the Netherlands meet, look at http://winterpilgrim.blogspot.com/
Holy Year Definition
On holy years there will be many more people on pilgrimage. Saint James day is July 25th, and if that falls on a Sunday, that year is a holy year.
Weather:
Expect some rain, particularly in April-May and mid Sept - Oct. For example, Pamplona, from the site below, averages 10 days of rain in April. If crossing the Pyrenees in early or late season, talk to the pilgrim office in St. Jean re whether taking the high route or the road route is appropriate. To see historical weather by month, click on this site: http://www.peterrobins.co.uk/camino/weather.html

If you check our gear page, you will see that we carried a rain jacket, pants, and pack cover. Now we have a combination rain jacket pack cover (google for packa) that works well. The packa is only available for US sales. You still need rain pants. The Packa now has taped seams www.thepacka.com . You can get a similar garment but knee length - the Altus rain cape at http://www.barrabes.com/barrabes/product.asp?pf_id=20884&idvariedad=79363
Money:
ATMs in all the larger towns - i.e. every 3 days or so. We used one of those debit cards that can also be used as a VISA card. You will have a numeric keypad to enter the pin number, so you need a numeric pin number or know how to enter your alpha pin on a numeric pad.

I suggest you ask your credit card company for a credit card that has a chip in it, as used in Europe. You probably will only be able to get a Chip with Signature card instead of a Chip with Pin card, but at least getting the chip means your card will be read in the usual manner (stuck in the bottom of the reader) rather by the magnetic strip reader on the side of the device. The magnetic strip reader in Europe is seldom used so will be dirty, give bad reads, etc.
Internet Access:
Many refugios now have internet. However there are a lot of pilgrims contending for use, and they are usually Windows xp and the usb ports and/or cd drives may not be available. There are also internet cafes in the larger towns, as well as in the library. The word for internet cafe in Spain is locotario. Uploading photos can be a problem: See http://la-via-lattea.blogspot.com/2006/10/bloggers-guide-to-camino.html for some of the problems. Most places now have Wi-Fi and we have started carrying a 3rd generation wireless only ipod to do our email and simple web lookups.
Health Care:
During 2004 Holy Year you could get a health card that provided free pilgrim health care on the Camino. That was only for holy year. The Confraternity of St. James guide reports that Cruz Roja (Red Cross) centers provide free emergency care for pilgrims. Refugio hosts and other pilgrims will give you help and advice on caring for blisters and other typical walker's problems. Check to see if your current health coverage needs anything special to cover major medical emergencies while traveling in Spain. There are some long threads on traveler's medical insurance on ivar's forum http://www.caminodesantiago.me/community/threads/medical-insurance.7980/
Re: Language:
We met very few English speakers the whole trip, no Americans till Santiago. Didn't hear English for 3 or 4 days, then met a woman from England, saw her a couple of days. Some Germans spoke English, crossed paths for several days with a woman from Santiago who spoke excellent English. A couple walking from Holland spoke English. We have zero French or German. Our Spanish is ok for travel but not for extended conversation, so for example, we traveled quite a few days with a woman from Brazil who spoke no English, and marginal Spanish. We became good friends, but had to rely on translators every few days. We heard more German and French than Spanish for the first two weeks. Once into Galicia, there were a lot more Spanish pilgrims. We started out with one of those $30 translators but abandoned it at the 2nd refugio - to slow - our fractured Spanish worked fine.
Where to stay and what it costs:
If I knew you personally, I would insist that you get the Confraternity of Saint James publication above, as your bible of food and shelter location and cost. You can get this info from the web with a lot of work.

If you are looking for a little broader range of accommodations, we have found that the James Brierley guide lists more of the little hotels.

Accommodations change frequently. To cross check, I google, using the hotel names that I find in the confraternity guide or Brierley guide, as well as the city. For example:
Itzalpea, Ramuntcho Hotel des Remparts st Jean Pied de Port
If just google for hotel cityname I get all these commercial site hits that are usually worthless.

One reference on where to stay I saw recently was published in PDF form on the ultreya forum. I tracked down the original site: http://www.caminosantiago.org/cpperegrino/cpalbergues/albergues.html . It is a list by location of refugios and price. It is in Spanish, but after the introduction, but the list of refugios is clear even with minimal or no Spanish. If you want to be entertained, and get a rough idea of the English translation of the introduction, go to google and use this exact search term "refugios y albergues" cpperegrino. It will give you an exact hit on the page that contains the list. Then click the google phrase that says [translate this page]. You will get a computer translation from Spanish to English.

A 2014 website for albergues which can be booked ahead: onlypilgrims.com

A 2010 list of private albergues (which sometimes can be reserved in advance) http://www.redalberguessantiago.com/documents/211.html

My 2006 estimate of average cost per day - one person, just staying in refugios, buying lunch materials and buying supper, about 30€. This would be 12 for refugio & breakfast, 5 for lunch material, 10 for supper, 3 for etc. I think absolute minimum would be 20€. I've seen 10 quoted, but that would mean not contributing enough to the refugios to cover their cost. A small hostal (small hotel) room for two will be about 50€.

A 2005 list of refugios, price, distance apart: http://gocamino.oakapple.net/library/albergue.pdf
Camping:
We haven't camped but have seen tents outside of some of the refugios. Amawalker discusses camping, and has a list of campgrounds along the Camino:
http://amawalker.blogspot.com/2008/08/camping-on-camino-frances.html
Short Video on GR65 and Camino de Santiago Scenes:
If you have high speed internet, these are some of our images from walking the GR65 in France and the Camino de Santiago: http://www.youtube.com/watch?v=FoMjJZKEfjg
Bedbugs
There has been a problem in 2005 and 2006 with some of the refugios having bedbugs in late season. I don't have any tested advice on this. During our Sept-Oct 2006 trip we stayed in hostals and didn't have any problems, but hostals are small hotels with fresh sheets when you check in. We also talked to some pilgrims in Astorga about it, and they had had one bite between the two of them. You can get a treated bag liner or sleep sack. If I were going to use the refugios, I would consider carrying a single fitted sheet that I had treated ahead of time with Sawyer Permethrin Pump Spray or the equivalent and cover the mattress with the sheet.

Linda on the GoCamino forum carried a small bottle of lavender essential oil and sprinkled the refugio mattress and pillow with a few drops, as well as covering the pillow with a towel, and didn't have any more bedbug bites.
Cell Phones
From Richard on Santiagobis: If you want to buy a phone that will work in Europe and the US, you can find a used one on ebay. Search ebay for GSM Phone Quad Band Unlocked - be sure the charger works for both 110 and 220 - read the fine print or get email from seller to verify. Charge it and leave it on a day or so to test it. Once you get to Europe, buy a SIM card to get a local number and some minutes. You can add minutes later.

Cell Phone Rental with pickup and delivery at Madrid Airport:
This service was recommended by Rebekah on the GoCamino forum. http://www.onspanishtime.com/web/

We have an unlocked phone, and for the last three years have been getting a sim card from www.rebelfone.com - they bill you after the fact when they get the charges from the european carriers. So far there has not been a problem.
iPhones,iPads, GPS Apps
December 2014 note. Just read an excellent blog post by Jackie Laulainen if you have an iPhone, and useful for any smart phone: http://thebudgetmindedtraveler.com/iphoneabroad/
April 2012 note. This is all covered very well in a thread on Ivar's caminodesantiago.me
April 2013 note. Ed Chandler covers all the details on how to use your iPhone in wireless only mode (free) in this facebook post to the American Pilgrims group:
https://www.facebook.com/groups/57453722347/10151472627802348/ - the essence is to set your iPhone to airplane mode, which turns off all 4 of the iPhone radios, including cellular, the one that runs up charges. Then turn back on only wireless.
July 2013. PocketEarth is an Apple App that lets you load free maps into your Apple device. You can also load tracks (gpx files). Once these are loaded they are useable offline, even though you no longer have internet access: http://www.geomagik.com/en/pocketearth.html
Getting There and other transportation comments
We flew to Madrid, train to Pamplona, bus to Roncesvalles. Others taxi from Pamplona to St. Jean. The Confraternity of St. James website gives this number for a taxi: Francisco Igoa Martinez (+ 34 649 725951) provides an 8-seater taxi service from Pamplona to Roncesvalles. One site says taxi rates to Roncesvalles are 42 euros and St. Jean are 68 euros.

The Pamplona train station is in the Plaza de la Estación (District of San Jorge) Northwest of the city center across the river. From there you can take the Number 9 bus to the city center. The bus station is in the city center. The bus station is at Conde Oliveto 2.

Grant Spangler's page on getting to Pamplona & Roncesvalles has more taxi numbers but he is moving his website. It may be complete by the time you click http://www.elcaminosantiago.com/

For checking or booking bus service schedules and rates all over Spain, go to the ALSA bus line site www.alsa.es (an English button is on home page).

If you are in the Barcelona area you can get to Pamplona by bus or train from Sants station near the airport (Sants Estació) . The bus service is not ALSA, but is: http://www.vibasa.es/ . You can also fly via SpanAir or Iberia www.spanair.com http://www.iberia.com/OneToOne/v3/bookingForm.do . Costs on the order of 60 Euros.

From Judith on the www.caminosantiago.com pilgrim forum as of Feb 2005:

"Bus service from Pamplona to Roncesvalles (Montañesa from Pamplona Bus Station) ... Monday to Friday leaves at 18.00: Saturday leaves at 9:30 and has the day off on Sunday. Costs €3.91 payable on the bus to the driver.

Taxis Pamplona to Roncesvalles, Monday to Friday (daytime .. until 22.00) costs €42. The charges for Saturday/Sunday and National Holidays (daytime) is €53.

Pamplona to SJPP, Monday to Friday (daytime) will cost €68. Saturday/Sunday and National Holiday (daytime) the charge is €85.

There is no point in going up late as the refugios close at 22.30.


Backpack45 comment - Fares should be accurate thru 2006 then will probably change by a few euros.
From a Santiagobis posting:
From London, fly to Bilbao. The bus ride from Bilbao is 4 hours (14E) to Bayonne, walk across the Bayonne bridge to train station.

Train ride is 1 hour to SJPP 4 times a day in summer. Plenty of rooms for rent in SJPP. Buy food for your day-hike over the mountain.

If you start from St. Jean you don't have to go all the way to Roncesvalles in one day. There is a refugio in Huntto and a few miles after that is a new refugio Auberge
dÓrisson still in France so they are called auberges. If you want to stay there reserve in advance:tel: 06 81 49 79 56 or email:jean-jacques.etchandy@wanadoo.fr .
From Jason's June 2004 Ultreya posting:
From Biarritz
Bus. ? departs from outside the airport terminal to Bayonne SNCF station. Direct bus from Bayonne to St Jean three times a day. Check link below for schedule..

From Bilbao
Bus. Bizkaibus A-3247 departs from outside the airport terminal to Plaza Moyua (central Bilbao) every 30 mins from 6.00am (6.30 am weekends) to 11.00pm; journey time 40-45 mins; cost 1.00 EUR.

Taxi. Depart from outside the terminal; journey time 20-30 mins; cost 16-20 EUR.

From Bilbao regular coach service to Hendaye, tickets and bus stop at Termibus by the Hospital Civil de Basuto, journey to Hendaye takes 1 hour 50 minutes cost ?7. From Hendaye take train via Bayonne to St Jean, journey time three and a half hours. (backpack45 note: Bayonne to St. Jean now by bus - see link below for times)
From Pau
From Pau you can take a taxi to St. Jean for about 200 euros - a 1 1/2 hour drive, if you reserve in advance. I found this Pau taxi site by googling so can't verify anything about it:
http://diy-hols.com/Pau_airport_transfers/pau_airport_taxi.htm
From Ron's Feb 05 www.caminosantiago.com pilgrim forum posting
Train from Madrid to St. Jean: The train to Irun leaves from Chamartin station in Madrid not Atocha. Don't get off the train in Irun, however. Stay on for another ten minutes until it crosses the border into France at Hendaye. There, you'll need to get another train to Bayonne France (about 35 minutes) where there is a shuttle bus to St Jean Pied de Port. (backpack45 note: Bayonne to St. Jean now by bus - see link below for times).

I checked the RENFE website for Madrid to Hendaya (that's how they spell it in Spain). Takes 7 to 8 hours to Hendaye, about 35 euros, maybe another 4 hours to St. Jean ignoring time between connections, so a long day.
From Paris to St. Jean, paraphrasing Margret's post in caminodesantiago.me
You can catch a SNCF TGV train from Paris Montparnasse to Bayonne and from there catch a TER train to St. Jean. There are different schedules depending on day of week, both in Paris and in Bayonne. You cannot book more than 3 months in advance. For Paris timetables and booking see http://www.sncf.com/en_EN/flash/, For a nice little map and links to trains in southwest France see http://www.touradour.com/towns/trains.htm, The TER schedules can be found in http://www.ter-sncf.com/Region/aquitaine/gare/Bayonne.aspx.
Getting to Paris from Santiago from Rebekah's 07 Santiagobis posting:
Take the bus to Burgos, and from there catch the Madrid-Paris HotelTrain.
Bayonne to St. Jean
This is now a bus shuttle thru SNCF that leaves three times a day - Enter Bayonne and Saint-Jean-Pied-de-Port and appropriate date in the following link:
http://www.ter-sncf.com/poitou_charentes/index.asp
Starting from Astorga or Leon:
Abbreviated from Michael's Jan 06 Santiagobis posting

You can fly into Valladolid ( Ryanair flight) and take the bus to Leon and then onto Astorga. Valladolid transportation schedules: (paste link into Google and translate if your Spanish is not sufficient)
http://www.aytovalladolid.net/modules.php?name=Transporte&file=Bus

This has 2 buses direct from Vallodolid every day to Astorga morning and evening.
There is a more regular bus to Leon i.e nearly every hour
Astorga transportation:
http://www.astorga.com/transportes%20publicos%20en%20astorga.htm

You can get a bus in from Vallodolid airport to the Bus station which is 10 km away.

Alternatively there is a bus directly from Madrid to Astorga.
Errecaldia (St Jean b&b) directions on how to get to St. Jean
This page gives directions for all over Europe to St. jean. It also gives a link to http://www.expressbourricot.com/ a baggage service that provides various services including shuttling pilgrims from Roncesvalles to St. Jean.
Luggage Storage in Santiago
This is a new service as of 2013 - Ivar, the owner, has been running an excellent pilgrim forum for years. www.caminodesantiago.me/luggage-storage-in-santiago-de-compostela/
Airline Schedule for Spain:
The airport is on the pink line towards the right. Move the mouse and the names will become large enough to read. The Atocha train station is on the blue line a little down to the right from the center.
Camino Statistics on Travelers
Look at the Archdiocese of Santiago de Compostella for camino statistics by month, year, age thru 2014. In brief and rounded for 2014: June 33000 - July 39600 - Aug 51200 - Sept 34500 - Oct 23200 - Nov 4800. For 2013, Ages under 30 61114, 30-60 121305, over 60 33461. I think age distribution is misleading in that many young people join the Camino in Galicia. The statistics for Roncesvalles to Leon would show an older set of pilgrims.
Trends of annual totals:
1998: 30000,
1999: 155000,
2000: 55000,
2001: 61000,
2003: 75000,
2004: 180000,
2005: 93924,
2006: 100377,
2007: 114026,
2008: 125141,
2009: 145878,
2010: 272412,
2011: 183366,
2012: 192488,
2013: 215880.
Sex 55% men, 45% women. Reason for pilgrimage: in 2013, 40% religious, in 2004 75% religious.
Translation Hints:
A number of good European sites are not available in English. I have the Google Toolbar. One of its optional buttons is Translate. With that, when I am on a foreign language site, I click Translate this Web Page, and I can navigate thru the site successfully.
Other Interactive Sources of Information: Forums and Listservs:
Ivar's forum - http://www.caminodesantiago.me/board/ As of Jan 2012, this is the most active English language forum that I have found. Quite a bit more activity than the Yahoo forums below. You can count on a good response to a query in 24 hours.
Santiagobis yahoo group - 600 members - good information - about 5 to 10 messages per week..

American Pilgrims Facebook Group - this is becoming one of the more important places for at least United States based pilgrims. Lots of posts daily, but hard to find anything from earlier posts due to Facebook's poor search capability.

saintjames yahoo group - 121 members - similar to santiagobis and GoCamino. A faith based membership.

GoCamino listserv - a long time group - associated with American Pilgrims but membership not required. Traffic is dropping now that the Facebook page above has been established.

The gocamino listserv is provided by the American Pilgrims on the Camino. To join the forum, see http://gocamino.oakapple.net - more on the American Pilgrims org down the page.

http://www.caminosantiago.com/way_of_saint_james/pilgrims_forum.php is a commercial site based in Spain that has an English version. It's pilgrim's forum is active with good answers.

http://www.elcaminosantiago.com/ is a new site by Grant Spangler. He has has a wealth of Camino information - maps, routes, train and bus schedules, but it is taking time to get it on the new site.

http://www.infocamino.com/ interesting new site - at the moment only in Spanish.

http://caminodesantiago.consumer.es/ in Spanish - interactive map with all routes, click on a route to get day by day stages (etapas) and kilometers. Also has alburgue info for each stage.

http://www.noticiascamino.com/ is a Camino action site, which monitors threats to the Camino - in Spanish.
Bicycle Links
An excellent Camino Bicycle forum: http://groups.yahoo.com/group/Santiago_Bicicleta/

This site has practical info on bicycling the Camino - gear, etc.: http://homepage.mac.com/verbier7/04bicycle/index.htm

This site in Santiago rents bicycles and will deliver them to your start point, and you ride back to Santiago to return them. They also rent bicycle gear. Roughly 320 euros for 2 bikes, 12 days. All this info per email from Steve. We haven't bicycled ourselves. http://tournride.com/

You have to dig thru this site, but you can uncover lots of good bicycle related info: http://www.interam.com/camino/indexeng.htm

Easy to read for a quick overview of bicycling the Camino and general Camino info: http://www.goxploring.com/camino/

This site appears useful, but more so if you read Spanish: bicigrino.com/en/camino-frances.html
Camino Related Blogs of Interest:
These are all blogs I try to follow.

http://moratinoslife.blogspot.com - Rebecca's saga as she and her husband move to Moratinos, a Camino stop on the meseta, and restore an old house. I recommend starting from day 1.

http://verylongwalks.blogspot.com/ - A couple who walked from London to Santiago.

http://www.vfpilgrims.blogspot.com/ - Sil's blog - a walking pilgrim - has walked the Camino, walked to Rome and walked other pilgrimage routes.. Also contributed the Via Francigena info I have below.

http://winterpilgrim.blogspot.com/ a woman starting in early December from Aix-la-Chapelle where Germany, Belgium and the Netherlands meet.
American Friends of the Camino
This active organization of mostly U.S. pilgrims sponsors an annual meeting, has an informative website: http://www.americanpilgrims.com and supports the gocamino forum. They also have a American Pilgrims Facebook Group. To join gocamino, see http://gocamino.oakapple.net Note: This is a replacement for the original gocamino run for years by Linda Davidson. The new gocamino has the archives of the original listserv.
The American Pilgrims Newsletters

This organization puts out an excellent series of newsletters. I highly recommend them. Some samples:

http://www.americanpilgrims.com/newsletter_archive/newsletter_1001.pdf

http://www.americanpilgrims.com/newsletter_archive/newsletter_0911.pdf

http://www.americanpilgrims.com/newsletter_archive/newsletter_0909.pdf

http://www.americanpilgrims.com/newsletter_archive/newsletter_0905.pdf

The Annual Pilgrims Gathering

These annual gatherings are during college spring break. There is also an associated hospitalero training session before the session and a spiritual retreat after. For more information, http://www.americanpilgrims.com/events/events_national.html
Sound Links:
The Spanish sound site: http://www.escoitar.org/ has many sounds, one of the comments posted on the site contains the sounds of the Cathedral bells, with the sound of water falling in the praza de platerías xunto a fonte dos cabalos. To get there: Click and you get a google map. Below the map are three boxes. Put A Corona in the Province box, then Santiago in the Comarca box. Put berenguela in the 3rd box and hit the pesquisar button. That brings you to a bunch of sound comments. You want the one that says Miguelangel says on Nov 21, 2007 @ 08:01 AM: Right now it is the 3rd comment. Click the play button. Thanks to GoCamino's Rosina for the heads up about this site.
Video Links:
You can google for camino de santiago under the videos tab. Also YouTube has some, including ours. YouTube video quality is poor, but we put together a 3 minute video that gives you a flavor of the Camino and GR65. For a high quality presentation, come to our show when it is in your area. For the YouTube video, click below:
Youtube Walking the GR65 and Camino de Santiago
Documentary on six people walking the Camino in 2009:
http://www.caminodocumentary.org/
Other Links:
I've listed this link earlier, but am repeating it because it is very useful:
http://www.godesalco.com/iphp/perfil.php You can select any two points between Roncesvalles and Santiago and it will generate a profile that you can print. In addition the initial display shows cumulative distances so you can calculate distances between any two points, and the next display shows distances between each place with accommodations. This information can be downloaded as a spreadsheet. Once you have the spreadsheet, you can add columns converting kilometers to miles.

Confraternity of St. James - a good planning resource and the source of must have Camino guide as well as guides to some of the other routes.

www.pilipalapress.com publishes an ebook walkers guide to the Camino.

http://www.mundicamino.com/ingles/ is a good site particularly when you need details on one of the more obscure routes

www.pigrimsprocess.com publishes several Camino books, all by Eyln Aviva - one a story of her Camino journey, and a couple of novels in the setting of the Camino. I'll put more info in the books section once I get a chance to read them..

http://www.pilgrimage-to-santiago.com/ This is a site in English dedicated to providing information on the city of Santiago de Compostela - it's been up since about May 1st, 2004 and so far looks good. (in 2004 was called santiago-today).

http://www.peterrobins.co.uk/camino/ - The place to go for anything map related on European trails. A good site with a lot of info on the various routes, plus an excellent weather page mentioned above.

http://www.caminolinks.co.uk/ This UK site is has a well organized set of camino links including links to private journals, to Camino del Norte and Via de la Plata, which I do not cover.

http://www.caminodesantiago.me.uk/ Leslie's UK site has a wealth of information, including articles by other pilgrims, and a nice set of photos.

http://www.ourcamino.com/ This Camino site is maintained by Jim and Eleanor Clem, authors of Buen Camino, which I enjoyed and reviewed earlier. The highlight of this site for me is the excellent photo section. It also covers the books well.

http://kidsoncamino.com/ - For those considering walking the Camino with children, this site is based on the experiences of a couple walking from Leon with their 16 months old daughter.

http://www.robertward.ca/index.html - Robert Ward is the author of two pilgrimage related books. Virgin Trails is about his search for the holy places of the Virgin Mary, and All the Good Pilgrims about his Camino tales. Check his site for more information.

http://onfootinspain.com/ - Nancy Frey and Jose Placer founded this well regarded walking tour company in 1999. A good choice if you are looking for a knowledgeable, guided walking tour on the Camino or other parts of Spain and Portugal.

Check out the Online Telegraph bookstore - informative overall Camino web site in English. Not recently updated.

http://timelines.ws/countries/SPAIN_A.HTML - a timeline of Spanish history and related related links for those who want some historical background.

If you want to study Spanish in Santiago de Compostela, the following link looks good, but we have no info other than the link:
http://www.spanish-university.es/santiago-spanish-course.php
Photo Links: Just enter Camino de Santiago photos into the Google images page and you can get a lot of good trip photo links, so I won't duplicate them here. Same thing for alltheweb images page.Also the caminolinks site above has a good photolinks section.

Public Domain photo link: https://artserve.anu.edu.au/ you will have to search, but this site has some excellent images

A slideshow of Camino pieces from the Victoria & Albert Museum: http://tinyurl.com/38udep
Canadians - Little Company of Pilgrims Canada
There is an active society of Canadian Pilgrims. See http://www.santiago.ca/ for more information. They are sponsor annual pilgrim gatherings open to all pilgrims. See the website for more information.
Google Earth routes, GPS Points from Le Puy to Santiago:
This website collects all the various gps info and google earth paths into one spot: http://users.skynet.be/watermael/gps/50358.html
Maps
From Roncesvalles on the yellow path markings are good enough so that a map is not essential. It does increase the comfort level. From St. Jean to Roncesvalles by the high route, most of the way is on small paved roads, but near the top you need to pay close attention, so read the various guidebook instructions, stop at the pilgrim office in St. Jean, and get their little map, and don't go over in the dark or heavy fog. You will miss spectacular scenery if you do. The Brierley guide has useful maps in an English language guidebook. We also got Michelin maps but didn't get much use out of them. There is a flimsy Spanish language map of the Camino that you can buy in bookstores in major towns along the route. There is also an good map website for the world, though it doesn't always get down to the street level: http://www.calle.com/world/index.html Also, try the University of Texas public domain maps: http://www.lib.utexas.edu/maps/
Ediciones Way publishes maps you can buy in bookstores in Spain. Fold to 3 1/2 by 3 1/2 and have distances, altitudes, refugios, etc. There is one that covers the Camino from SJPP to Burgos, and Somport to Burgos; another from Burgos to O Cebreiro and another from O Cebreiro to Santiago.
The name of the map series is "El Camino Jacobeo en tu Bolsillo"; ISBN 84-930395-2-7 in Spanish, French, English and German. I've heard they may be ordered from the publisher: ;Ediciones Way, S. L.
San Anselmo No. 1
2818 Madrid
Spain
Medieval Pilgrimage - further information
This scholarly site has a wealth of information on pilgrimage in the middle ages, including many images: http://peregrinations.kenyon.edu/
Camino Gear List
Google Docs Primitivo Gear list
Other Pilgrimage Routes in Spain:
Confraternity of St. James Guides available online for Camino Inglés, Finisterre and Camino Portugués
You can download any of these guides as a word file, which you can edit, or a pdf file which cannot be edited. A donation is expected. See: http://www.csj.org.uk/guides-online.htm
Camino del Norte:
Camino del Norte is a less traveled route that was originally used by pilgrims from England. The Confraternity of St. James has information on this route and has recently opened a refugio on it: Volunteers run the Refugio de Peregrinos de Miraz on Spain's Camino del Norte

There was an excellent diary and other information on this route in http://www.raunsbjerg.dk/ Based on reading the diary, this is a difficult but beautiful route, lots of climbs, scarce accommodations, poorly marked. However, this site is now offline. You can google for camino frances vs camino del norte, and read the ElCaminoSantiago entries for some idea.
The Primitive Route:
This is a branch off the Camino del Norte that leaves at Oviedo and joins Camino Francés at León. For more info see: http://www.csj.org.uk/route-camino-primitivo.htm .
Vía de la Plata
Starts from Seville and joins the Camino Francés at Astorga. 734 km to Astorga. See Confraternity of St. James routes page: http://www.csj.org.uk/routes.htm A new site dedicated to VDLP is under construction: http://alberguesperegrinos.com/ . An alternate starting point for this route is Granada, joining the main VDLP at Mérida. This alternate leg is called Camino Mozárabe. We walked part of it to Córdoba in spring of 2011. I did a blog entry on Planning for Camino Mozárabe as well as a trip report on Camino Mozárabe. I also did a couple of youtube videos on the trip. On on the Camino Mozárabe route, and one on the Colors of Andalucia. There is an excellent thread on Ivar's forum that includes a pdf spreadsheet with all the stops. Be sure to read the entire thread and download the spreadsheet: http://www.caminodesantiago.me/board/via-de-la-plata-albergues-pensions-and-hostals/topic17077.html#p122989
There is a very good pdf guide to Camino Mozárabe including three different starting points:
caminomozarabedesantiago.es/documentos/guia-eng.pdf
The Camino Portugués:
This 232 km route starts in Porto in northwest Portugal. For initial info, see the Confraternity of St. James page: http://www.csj.org.uk/route-camino-portugues.htm - we are considering doing this route. http://www.caminhoportuguesdesantiago.com/EN/caminho.php is a site on the route thru Portugal. Also see John Brierley's update pages to his Camino Portugués guide http://www.caminoguides.com/latest.html . Also, on our Camino page 3 we have some notes from our Portugal walk.
Peter Robin's website of 100+ routes to Santiago:
http://www.peterrobins.co.uk/camino/ for an interactive map of routes from all over Europe. This is an important map site. You can get various levels and kinds of maps, such as Google maps, 24k topographic maps, etc. He also has a good summary of significant dates affecting pilgrimage from the earlier days on. For instance, do you know that Provence was once governed by Germany (prior to ww2)?
GPS Usage
A gps is not needed for Camino Francés. For some of the other routes it could add some comfort. Ours is an old Garmin Vista C with little memory, so can't load the detailed topo maps that are available. However, I do load Europe road map, and that is sometimes useful. If you have a newer gps with a lot of memory/ and or with a memory card, this site has been recommended by others for map purchases: http://www.memory-map.co.uk/maps_france_onland_top25.htm .
The route from Somport to Puenta de la Reina
This site is in Spanish, but still helpful for those who wish to travel this beautiful and lightly traveled route: www.jacajacobea.com .
The Route from Arles, France
We gathered so much info on this route in preparation for our trip, that we gave it a separate page:
backpack45.com/arles.html
A link to all the GR routes in France
http://www.gr-infos.com/gr-en.htm
Other hiking routes in Spain:
I sometimes get questions about other long distance trails in Spain. The European E4 hiking route goes along the east coast of Spain as part of its route.
John Hayes has walked the E4 from the southern coast of Spain to Hungary, and has a good blog about it: http://www.johnhayeswalks.com/p/e4.html
Other Pilgrimage Links:
The Via Francigena From Canterbury to Rome:
March 2007 - Sil from Santiagobis tells me that there is now a Confraternity of Pilgrims to Rome: http://www.pilgrimstorome.org.uk/index.html

http://www.eurovia.tv – Website of the Association for The Establishment of European Pilgrimage Routes. Current Project is the pilgrimage to Rome. This association issues pilgrim identity cards for the Via Francigena

Sil provided all of the following (Nov 5, 2006):

The two most active organizations are:
(AIVF) Association International Via Francigena: www.francigena-international.org (Website in 5 languages)
Based in Rome – started by Adelaide Trezzini in 1994. You can become a friend (AMIS) by joining the Association. You can buy their accommodation and monument guides called the Guida Vademecumum – one for Canterbury to Gr St Bernard and the other from Gr St Bernard to Rome.
They also have maps called Topofrancigena for these two regions. Adelaide recently provided an excel document called the Dormir-Francigena with additional information on accommodation. Members receive a `pilgrim passport' to have stamped along the way and if you walk the last ± 140km from Aquapendente, you will receive the Testimonium in Rome.

(AEVF) Associazione Europea della Vie Francigene: www.associazioneviafrancigena.com /
(Website in Italian and English)
Founded in Fidenza in 2001. Not yet a membership organisation for pilgrims but you can register on-line to receive their monthly e-newsletter (Italian).
The website offers Interactive maps, about 300 excellent (1:10) downloadable maps for Italy, daily stage guides, accommodation information and a downloadable pilgrim passport free of charge.
They also offer a link to www.rivistaviafrancigena.it where you can order a copy of the glossy bi-annual magazine VIA FRANCIGENA in Italian and English. Issue no. 23 is now available.

There is also Eurovia in Austria (not sure how active they are though).
www.via-francigena.com (Web site in 5 languages)
Started by two Austrian guys they say that "EUROVIA is an association that is revitalising the pilgrimage culture in Europe under the slogan "Ways for humans". They offer a useful DVD video of a pilgrim who walked from Lausanne to Rome called "Via Francigena" (in 5 languages). The site also offers lists of accommodation, a pilgrim passport (not for free) and a FORUM.

For a slideshow of photos from Aosta to Rome (taken in 2004) look at Jeff McDonald's excellent site at
www.senderos.awswa.com

Some useful (though perhaps a bit out-dated) info can be found here: www.giovannicaselli.com

A good Guide Book (even though it is in Italian) for the Gr St Bernard to Rome section is the Guida Alle Via Francigena obtainable on line from TERRE DI MEZZO www.terre.it
The latest edition (May 2006) is now available. It has useful strip maps for each stage which we found invaluable when walking in June/July 2006.
There is an online pdf file guide in French to the Italian routes:

http://www.verscompostelle.be/Document/via%20francigena%20FR%202010%20avec%20variantes.doc
or
There is an English Yahoo Group at http://groups.yahoo.com/group/via-francigena/ with 100 members.
Le Puy to Saint Giles:
If you have gotten interested in the pilgrimage trails in France, check out this one: http://www.regordane.info/Index.html
755km el camino de San Vincente Martir
This as yet un waymarked route from Zaragoza to Valencia follows Roman roads for the most part. See http://www.caminodesanvicentemartir.es/ for more info.
St. James related rhymes:
Thanks to Silvia from Santiagobis for the following:
Sailing in ships:
You leave behind all fun and games
When you set sail for Saint James (15th C)
Original verse: Men may leve alle gamys
that saylen to Sent Jamys
Cockle shells:
July, to whom, with Dog-star in her train
St. James gives oysters, and St Swithian rain.

He who eats oysters on St Jame's Day will never want for money
Hops production:
Till St Jame's Day be come and gone,
You may have hops or you may have none.

1425 – Purchas his Pilgrim.
Upon a hill stondez on hee
Where Sent Jamez ferst schalt thou see
A Mount Joie, money stonez ther ate.
Mary I of England: Catholics & Protestant squabbling:
Mary, Mary, Quite Contrary,
How does your garden grow?
With silver bells and cockleshells
And pretty maids all in a row.
A skipping rhyme:
Blue bells, cockle shell
Easy ivy over
oh no, here comes miss blackwell
with her big black stick
now it's time for arithmetic