Camino Chronicle Walking to Santiago
by Susan Alcorn - ISBN 0936034033 - Journey of discovery on the Camino de Santiago
One of the three finalists for the prestigious Benjamin Franklin Award for Best Travel Essay for 2007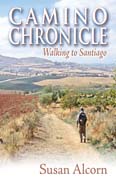 First published in June of 2006, and reprinted with current "how to" info in 2014.

A true adventure in Spain enriched with the flavors of contemporary culture, spiced with legends from ancient times, and shaken by the happenings of 9/11.
"This highly personal account is interwoven with a sketch of the bloodstained history of the Camino from the beheading of St. James and his miraculous appearance to lead the Christian Reconquest of Spain from the Muslim's, earning him the ignominious title - 'Slayer of the Moors'. In between we have glimpses of yet more massacres of Charlemagne and Roland, the Inquisition, the Spanish civil war, Guernica, the ETA, the Madrid train bombing. Midway through the pilgrimage comes 9/11 and the agony of this American struggling to come to terms with this latest atrocity and the seemingly endless cycle of violence." - John Brierley - Camino Guides
"rich in the history and mythology of the Camino, the book leaves armchair readers longing to pop right through the page into Spain to take the trip themselves!" - Kathy Morey - Wilderness Press.
"will have you thinking, 'Hmm, I wonder if I could do this.'" - Melanie Rigney, "Editor-for-You"
For more reviews and author info, go to our media kit page.
To order, go to Amazon or email us (see below). Available on Kindle.
Bookstores: How to order
You can order this book from Ingram or directly from us. Call or email customer service for discount schedule 866-219-8260 or email backpack45 at yahoo.com.