Susan Alcorn's Backpacking & Hiking Tales and Tips #249 February 2020
Dear friends,

Ralph and I recently returned from a three-week trip to Antarctica and other points far south, which is why there was no January issue of this newsletter and why I am now saying "Happy New Year—and where did January go!" I am just beginning to write up our amazing trip on my new website, so I hope you will take a look. susandalcorn.com . Go to the blog heading and you'll find the Antarctica posts. Meanwhile, enjoy one of the thousands of photos we took (this one was on South Georgia) ! 
I am still in the process of building the new website, so if you'd like to see more about trails in the U.S., the Camino, Nifty Ninety, or other topics there, please let me know. Thank you! 
Cheers,
Susan
Contents: 

1. ALDHA-West Rucks
2. World Health Organization says exercise can reduce risk of dementia
3. Permitting for PCT hiking
4. Treeline reviews trail runners. 
5. Free Outside: A trek against time and distance
6. What is the SierraClub.org/ico
7. Andrew Skurka, notable hiker, gives backcountry navigation tutorial
8. With the Wild Things
9. Regional: SF Bay Area BPWA offers 'Free Libraries' Hike
10. Regional: SF Bay Area Solano Land Trust offers Yoga Hike
11. Regional: SF Bay Area NorCal pilgrim group upcoming events
Articles: 
#1. ALDHA-West Rucks: American Long-Distance Hiking Assoc-West holds several RUCKs in the west and they are well worth your time. These are informal and informative gatherings that are well worth any wanna-be or highly experienced hikers' time—and they are fun! Those new to hiking can find a wealth of information; experienced hikers can learn about new places to explore, update skills,  and meet or have have reunions with others in the hiker community.
We went to the one in El Cerrito (S.F Bay Area) this past weekend and enjoyed a full day of presentations. Duncan and Snorkel covered "Wilderness Travel, From Surviving to Thriving" and Giggles and Mountain Mama talked about "Leave No Trace" and Trail Town Etiquette. Our first batch of smaller group discussions included such topics as navigation, budgeting, women's specifics, and food. The second breakout sessions were about various trails—Pacific Crest, Camino de Santiago, John Muir Trail, etc. 
Oh, did I mention that the cost—$20 member, $35 non-member (it pays to join!) included a wonderful light breakfast with bagels and smoked salmon and a delicious hearty lunch with BBQ and chili, salad, dessert, and beverages. What a bargain it all was!  All this food was thanks to 'Shroomer' Scott Williams and his merry band of hiker pals. 
The topics and programs vary at the different RUCKS—so check the specifics for yours. 
Cascade Ruck, Stevenson, WA, February 22, 2020
Colorado Rockies Ruck, Golden, CO, March 7, 2020
North Cascades, Sedro-Woolley, WA, 21 March 21, 2020
#2. World Health Organization (WHO) says exercise can reduce risk of dementia: UC Health and Wellness Alert reports "World Health Organization Issues Recommendations to Lower Dementia Risk" (Editorial Staff -January 27, 2020) 
Recommended: "Engaging in physical activity and not smoking top the list of the World Health Organization's (WHO) recommendations for a lifestyle that will reduce the risks of developing dementia." This was the first time that WHO addressed the topic of dementia. In 2019, they "addressed potentially modifiable risk factors after examining available evidence and synthesizing the findings."
Also strongly recommended: Managing hypertension and diabetes, using lifestyle interventions or medications, and following the Mediterranean-style diet and reducing or stopping harmful drinking.
Questionable at avoiding dementia: Taking vitamins B and E, omega-3 fatty acids, or multivitamins. They also note that high doses can be harmful. Also cognitive training, managing overweight, using antidepressant medicines or hearing aids, or engaging in social activity are of questionable value for avoiding dementia. However, they note, these activities may be good for overall good health.
#3. Permitting for PCT hiking: Wow, this has become a bewildering process. And it seems like the rules and regulations keep changing. This is what I have found so far:
'Jaunting Jan' in Facebook group PCT Section Hikers wrote:
RE: Oregon Permit Requirements for hiking without a PCTA long-distance permit. Here are the details directly from the USFS.
All overnight visitors to the Mt. Jefferson, Mt. Washington and Three Sisters Wilderness are required to have a Central Cascades Wilderness Permit. There are also day hiker permit requirements for select trailheads. Permits will be required starting on the first Friday before Memorial Day weekend, May 22, 2020. The last day of the permit season is Friday, September 25, 2020.
A portion of permit availability for the full summer season will be released on April 7, 2020 at 7:00 a.m. (anticipated)
The remaining permit availability will become available two days before a trip would start. For example, for a trip starting on a Friday, that permit could be reserved starting on the Wednesday prior.
Permits will be available through recreation.gov, by calling 1-877-444-6777, and at some Willamette and Deschutes National Forest offices.
The Forest Service has proposed the following fees for these permits (The comment period for the proposed fee is open until January 10, 2020. Comments submitted between Oct. 9, 2019 and Jan. 10, 2020 will be considered and inform adjustments to the proposal.):
Overnight permit fee $5.00 per person, per night in all three Wilderness areas.
In addition, there is a $6 per permit reservation fee charged by recreation.gov
Day-use permit fee $3.00 per person (required at 19 trailheads, none required at 60 trailheads)
In addition, there is a $1 per person reservation fee charged by recreation.gov
No fees for youth 12 and under, but a reservation in the limited entry system is required regardless of age.
Additional details can be found at the below link. For planning purposes I recommend downloading the pdf for Maps of the Permit Area. This document shows quota per trailhead (Trail quotas from the Decision Notice on the Central Cascades Wilderness Strategies Project). I didn't see anything about the PCT trailhead limitations. 
I'm sure more details will flush out as the permit sign up day approaches. Mark your calendar for 4/7/20! 
RE: Inyo National Forest: Inga posted 1/31 on Facebook. From U.S. Forest Service - Inyo National Forest. "There has been a lot of discussion in the Eastern Sierra community about John Muir Trail permit administration this winter.
Background: There is a long-standing agreement between parks and forests for local wilderness permits in the Sierra Nevada region (Inyo National Forest, Sequoia and Kings Canyon, Sierra National Forest and Yosemite National Park). This agreement means that these national parks and forests will accept hikers with a permit issued by another local agency where the trip begins, and a permit was valid if the trip was for continuous wilderness travel. The four agencies have agreed to apply a consistent definition of continuous wilderness travel.
Exiting to resupply was never part of a locally issued wilderness permit. This includes a JMT permit. However, in the past, Inyo National Forest Trail Rangers were making an exception to allow resupply. In recent years it had been widely publicized that you could leave the trail, but it was not a term of the permit. Wilderness Rangers are documenting misuse of these permits. An example is people leaving the trail for extended periods and then returning where they left off well past when they were permitted to be traveling through an area. These misuses are well beyond the spirit of a resupply and then returning to the trail.
Last year, Kearsarge Pass had four times the traffic of previous years, greatly exceeding the quota mandated to manage impacts at Kearsarge. We would be remiss if we do not address these resource impacts and wilderness management issues.
Concern: Local businesses that provide resupply services, the John Muir Trail communities, and many others have expressed concern for loss of business and experience if resupply was not allowed.
Solution: Leadership on the Inyo National Forest wants to be responsive to our communities and the experiences that people seek in the Sierra Nevada. We also want to be good partners with our neighboring agencies and help address the collective concern for managing an increasingly popular and busy trail corridor.
"The Inyo will continue to allow exit for resupply for JMT and other local permits with a long-distance hike," said Tammy Randall-Parker, Forest Supervisor for the Inyo National Forest. "However, we are asking our community, both locally and in the JMT community, to adhere to the spirit of a resupply and to offer constructive solutions that help us manage these wilderness areas."
The Inyo National Forest will be reaching out to our partners, stakeholders, and interested publics over the upcoming year to define what resupply looks like in the Sierra Nevada region."
Bottom line, know the jurisdictions through which you intend to hike/backpack and stay informed to dates, rules and regulations. Good luck!
#4. Treeline Review on trail runners: Shoes--a subject dear to my heart! Link to the review here. Altra Lone Peak (our current favorite) continues to be high on the list, but they aren't for everyone so it helps to have professional reviews by hikers/backpackers who aren't on manufacturers' payrolls.   
#5. Book recommendation: Free Outside: A trek against time and distance by Jeff Garmire. 'Jaunting Jan' on Facebook writes. "I just finished reading this book about Legend's [Jeff Garmire] single year trek combining all three long trails, AT+PCT+CDT=Triple. This is my review. It's currently available on Kindle Unlimited [and in paperback]. Proof a Hiker is more than a Hiker. Well done Legend! Jeff did an admirable job sharing his same year triple trail hike. It didn't feel like reading a journal. There was a perfect balance of trail details mixed with adventure realities.
It's a great way to learn about the three long trails while thinking about how you might handle similar situations. I highly recommend! Oh I should add, it confirms why I choose to cherry pick trails."  
Susan: Anyone who has done these trails in one year definitely has something worthwhile to share!
#6. Giving Back/Paying forward: How to.  At last weekend's RUCK, I learned about the Sierras Club's program, Inspiring Connections Outdoors (ICO), which is all about "empowering youth from communities with limited access to connect and reconnect to the outdoors — for the benefit of both. ICO is helping create the next generation of environmental justice and social justice leaders through building community and increasing exposure to outdoor recreation, advocacy, and leadership training. Link here.
"Our 45 volunteer-run ICO groups nationwide conduct more than 900 outings for approximately 14,000 participants each year.
"About Our Program: Inspiring Connections Outdoors (ICO) provides safe and fun outdoor experiences for youth and adults from marginalized communities. ICO is part of the Outdoors for All campaign, which works to expand universal access to nature for children and youth."
#7. Andrew Skurka, amazing hiker, gives backcountry navigation tutorial: Essential gear & skills. Andrew Skurka "Hard-won insights from out there" — not sure how you could beat Skurka's advice!   Link here.
#8. With the Wild Things:  What I liked about meeting Danielle "Giggles" O'Farrell, wilderness educator and guide,  and looking at her website is that she is the "real deal." Her posts tell her history of learning to become a strong, confident hiker/backpacker and how and why she has created an outdoor skills company. The goal of  withthewildthings.com is to "expand people's comfort zones through sharing skills and building confidence and community.  We offer hands-on courses throughout the Bay Area covering Wilderness First Aid, backpacking and Leave No Trace." You are invited to join the community at upcoming classes in March. For more information and to sign up check them out at  withthewildthings.com . You can also arrange skills at sessions over the phone, on Skype or by e-mail depending on what best fits your needs.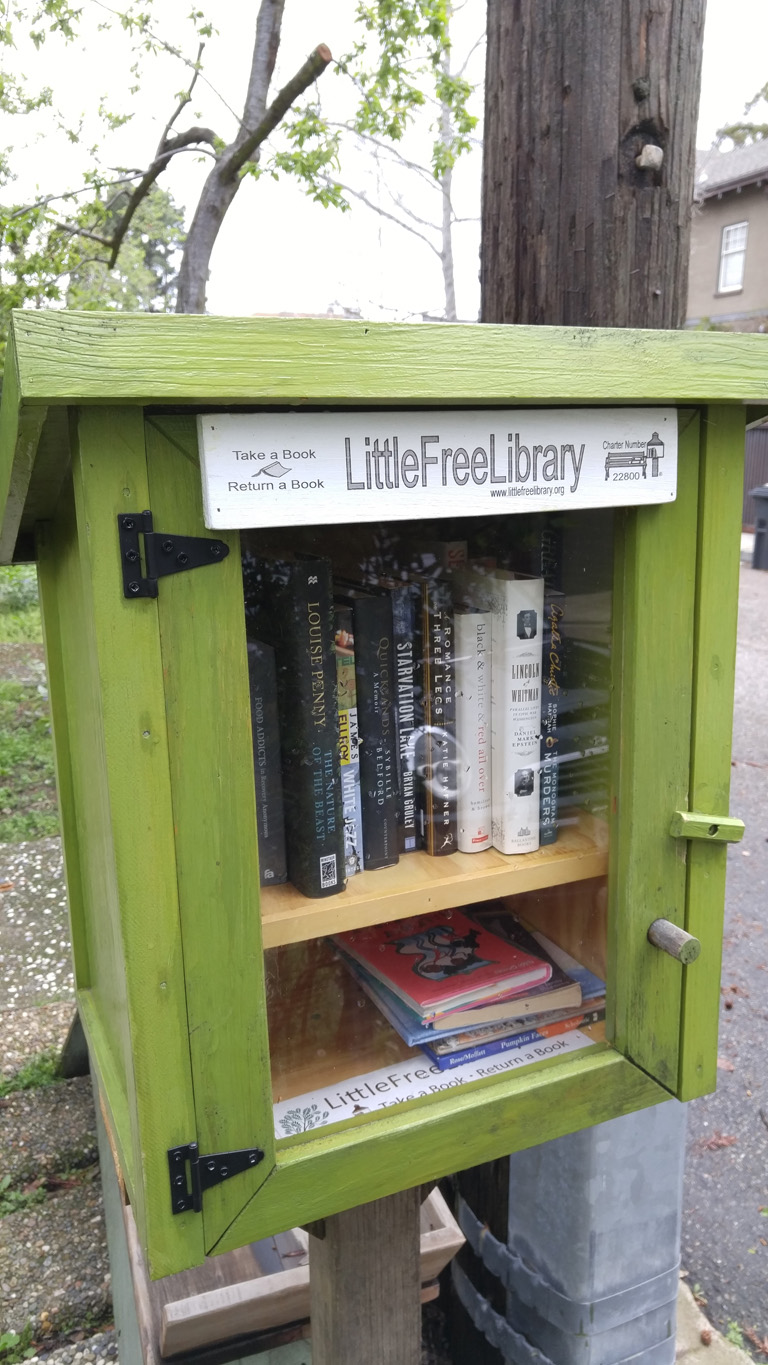 #9. Regional: S.F. Bay Area: BPWA (Berkeley Path Wanderers Assoc.) BPWA newsletters and website always include info on an upcoming set of hikes. Hikes are of a range of difficulty, and appeal to a variety of interests. One I found of interest was: "The Little Free Libraries of Claremont, Elmwood, and Rockridge." Saturday, February 8, 2020, 10:00 AM  12:30 PM. Leaders: Sandy Friedland and Colleen Neff. Start: Courtyard next to Peet's on Domingo Ave. No reservations necessary, just show up on time. 
"On our third walk featuring Little Free Libraries, we'll visit many of these whimsical book caches that have sprouted like giant Cubist flowers in every neighborhood in Berkeley. They operate on the honor system: Take a book; leave a book. The Little Free Library Foundation calls this practice the 'world's largest book-sharing movement.' We'll also meet some of the stewards of the mini-libraries on our three-mile paved route, which includes some steep stairs and hilly streets. Feel free to bring a few books to exchange along the way."  BPWA website is here. 
#10. Regional: Solano Land Trust. Yoga Hike at Rush Ranch. Saturday, February 8 from 9am - 11am. Barbara Fredericks will lead this family friendly hike with some warm up stretches and then will proceed on the trail. On yoga hikes, participants practice standing poses to support the body before, during and after the hikes. Participants can enjoy the sun on their face and the wind in their hair while they do yoga. RSVP recommended. Hike is Free.  Register here 
#11. Regional: SF Bay Area: Northern California Chapter of American Pilgrims on the Camino has a full calendar of activities lined up for this year.  Link to NorCAL chapter is here. 
And, "to find details and confirmation about events, follow these instructions: visit the local chapter events calendar and select our chapter name in the "All Events Category" pull-down menu. This will filter to display only our chapter's events. To see what we have tentatively planned so far this year, take a look at our schedule of events."
* Feb 16: Group Hike TBD
* Feb 20: Pilgrim Talk: Kumano Kodo Pilgrimage (Berkeley)
* Feb 23, Mar 1 & 8: Spanish for the Camino Class (Berkeley)
* Mar 12-15: Annual Gathering of Pilgrims (Lake Tahoe)
* Mar 21: Blessing & Shell Ceremony Potluck (Oakland)
American Pilgrim chapters are found across the United States.  Link here. On the West Coast, you will find chapters in Seattle (Puget Sound), WA; Portland and Southern Oregon; Silicon valley, Northern Cal, Sacramento, Lake Tahoe, Santa Barbara, Southern CA (Los Angeles area), and San Diego, CA. 
**************
Happy trails and travels!
Susan Alcorn (aka Backpack45)
. I'd love to include your success stories and other items of interest with the hiking/backpacking and Camino communities. I encourage you to send them to me at backpack45@yahoo.com for consideration.
Susan "backpack45" Alcorn
All Newsletters
2020
,
2019
,
2018
,
2017
,
2016
,
2015
,
2014
,
2013
,
2012
,
2011
,
2010
,
2009
,
2008
,
2007
,
2006
,
2005
,
2004